Tubesheet / Waterbox Coating

Cross sectional view of Curran Internationals tube sheet cladding system (thick film epoxy coating) on a tubesheet
• Note how the coating penetrates the tube to tube sheet joint.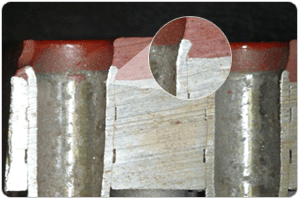 • The tube sheet cladding system rebuilds and repairs the tube sheet
• 20 plus years of worry free service
• Elimination of tube to tube sheet leaks
• Better cooling water flow
Condenser Tube sheet Coating:
| | | |
| --- | --- | --- |
| A properly functioning tube to tube sheet joint is essential to a condenser or exchanger's performance. Tube to tube sheet leaks or deterioration can cause serious condenser, boiler and turbine problems, leading to unscheduled maintenance and repair costs. Tube sheet degradation can be caused by heat excursions, erosion/ corrosion, galvanic attack of dissimilar metals, and mechanical impacts. Below are some examples of condenser tubesheets that show different forms of tubesheet degradation: | | Degraded condenser tubesheet |
| | | |
| Curran International offers a solution to deteriorating tube sheets with a thick film tube sheet cladding system. This tube sheet coating (thick film epoxy coating) when applied will encapsulate the tube to tubesheet joint, rebuild the tube sheet, eliminate tube to tube sheet leaks and prevent further tube sheet corrosion or erosion. It will return your condenser tube sheet to better then new. Curran's total turnkey tubesheet cladding services includes: labor, supervision, material, and equipment to completely restore your tubesheets. | | Condenser tubesheeet prior to sandblasting. Notice the deep pitting in the tube to tubesheet crevice. |
The Curran International tube sheet cladding/coating system consists of a three coat "thick film" coating process. The coatings used are 100% solids epoxy coatings speacially formulated for cooling water service.
The Process:
Prior to coating, the tube sheet is degreased (if new tubes have been inserted) and sandblasted to achieve the proper surface preparation (NACE No. 1/SSPC-SP5 "white metal blast").
The first prime coat (liquid grade) is applied at 10-15 mils (250-380 microns). The capillary action of the prime coat "wets" the tube to tube sheet joint crevice forming a tight seal.
The build coat (trowel grade) is applied to 180 mils (4572 microns) or more as needed and built up with the help of formation plugs inserted in the tube.
The condenser tubesheet build-coat is then ground smooth.
Then one to two top coats of 5-10 mils (250-380 microns) each are applied to finish off the system. The finished system provides years of worry free service and repels light mechanical, erosive, galvanic, or chemical attack associated with emersion and cooling water.
Caulking of the tubesheet to waterbox joint is also done if necessary


Condenser tubesheet after sandblasting.
Notice that even the deep pits
are sandblasted to white metal.


Prime coat, used to ensure coating
"wets into the tube to tubesheet joint
New epoxy cladding (Thick film coating)

on tube sheet

Condenser tubesheet finished coating
Ask about Curran Internationals ability to tie the tubesheet cladding system with tube end coatings or full length tube ID coating to completely refurbish your condenser.
Full Service Warranties Provided
Condenser Waterboxes, Components, and Associated Piping
Constructed of:
| | | |
| --- | --- | --- |
| Carbon Steel:Curran Internationals epoxy coating system for coating carbon steel utilizes a high performance 100% solids epoxy lining formulated with years of service for cooling water applications. This system is generally installed at a thickness of 30-125 mils. The thicker applications are usually installed where higher abrasion resistance from shells, barnacles, etc is needed or where heavily corroded steel needs rebuilding. | | Carbon steel waterbox prior to coating |
| | | |
| Cast Iron:The restoration of corroded cast iron starts out with the removal of degraphitization and decontamination of the substrate. Curran International has established special procedures for the removal of the degraphitization as well as Nonvisible contamination such as thin films of oil and grease, and/or soluble ionic materials such as chlorides, ferrous salts, and sulfates. Curran International applies the same epoxy lining system as outlined above for carbon steel. Generally cast iron will require some form of rebuilding or faring of the corroded areas to ensure a smooth continuous film.Click here to contact Curran International about performing this service world wide. | | Completed waterbox coating |